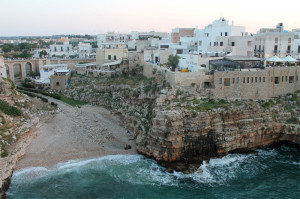 The town
You find B&B Poesia di Mare in Polignano a Mare, a town known as "the Adriatic jewel", because of its cliffs falling sheer to the sea. Polignano is a small town of 17.000 inhabitants in the south-east of Bari. This little "jewel" has a striking little old town and also a clear and pure sea water. In the last years, this quality has been awarded of "The Blue Flag" by Fee and "Legambiente Sails". Polignano a Mare is eastward to the Adriatic Sea and borders on: Mola di Bari to the North, Conversano to the West, Castellana Grotte to the South-West and Monopoli to the South-East.
Economy was based on agriculture and fishing, now also on tourism and culture, thanks to the famous singer Domenico Modugno: the father of Italian song; this also thanks to Pino Pascali, a contemporary artist well known in all the world. Today we have the "Pino Pascali Municipal Museum Of Contemporary Art Foundation" that every year promotes the "Pino Pascali National Prize". Moreover, in summertime we host "Il Libro Possibile", a famous literary festival.
Polignano a Mare is a wonderful oasis yet to be explored with all beauties of nature., such as: trulli and caves but also alleys and balconies. Polignano a Mare coastline is very high and indented: you can see the beauty of "Lama Monachile".
History
Polignano a Mare has a very ancient history. The origin of the town is associated to the Neolithic Age: human settlements were found in "Santa Barbara". According to experts, Polignano a Mare (in the past called Neapolis), was found on a pre-existing centre by Dionisius II of Syracuse around the 5th century B.C. in this area settled since the Paleolithic Age. The human presence traces date back to the Neolithic in "Santa Barbara" (5th-6th millennium B.C.) and in "Ipogeo Manfredi" (4th millennium B.C.). These are the most significant settlements; archeological researches by the University of Bari have revealed the presence of a village since the Bronze Age: the village became an important seaport thanks to its strategic position.
In the 2nd millennium B.C. the inhabitants moved to the present old town. At the beginning of the 3rd century B.C. Polignano became strategic for Taranto and their business relation. Moreover, Polignano became an important freight traffic with Romans in the 3rd century B.C.: thanks to this the town has an ancient street that connected Rome to Brindisi.
Until 1194 Normans ruled over Polignano after Romans. Thanks to Normans and Benedectins, town's prestige increased, as well as in business relations with Angevins. During Aragonese domination the commercial activities rose under Venetian expert traders. In that period, defensive works were made, beginning from the coast. In 1797 King Ferdinand and his wife and son stopped off here during a journey to Lecce. Ten years later, King Joseph Bonaparte was here and held with due ceremonies.
Joachim Murat, after the abolition of feudalism, wanted to visit the Kingdom of Naples (also Polignano), to strengthen the military capabilities. Nowadays Polignano has become a flourishing touristic, agricultural and craft centre.
SIGHTSEEING
Marine Caves
The coast is characterized by a big number of marine caves, a strong touristic attraction. The most visited are: Commisso cave, San Lorenzo cave, Cagione cave, Caselle cave, Valentini cave, Ladroni cave, Guardiano cave, Muretto cave, Rondinelle cave, Foca cave in Grottone, Arcivescovo cave, Ardito cave, Monache cave and Colombi cave. All of them are wonderful. Polignano has also the enchanting Azzurra cave. But, the most visited and beautiful is Grotta Palazzese cave.
The old town
The old town is a tourist attraction for its beautiful landscapes and also for nightlife around tiny streets. You go through the "Marchesale Arch" to enter the old town; this arch will bring you to "Vittorio Emanuele square" – also known as "Piazza dell'Orologio". Here you'll find the "Governor's Palace" and the former cathedral "Chiesa Matrice", where there are precious works such as: Vivarini's paintings and Stefano da Putignano's sculptures, as "Presepe" (a nativity scene), now considered a monument of national interest.
In Vittorio Emanule square there's still the old clock, a symbol of the past. Next the clock you can find the ancient "Giudea street", a Jewish ghetto in the past. From the square you walk along tiny streets to arrive at the beautiful balconies where you can admire the landscape beauty.
Scoglio dell'Eremita
Southwards, not so far from the city centre, you find "Lo Scoglio dell'Eremita". To see it you have to take a walk from "Grotta Ardito" seaside promenade to "Cristoforo Colombo" seaside promenade.
San Vito Abbey
Moving 3 kilometers northwards you reach "San Vito Abbey", in the homonymous village where there's a little port. An ancient legend tells of Princess Florenza's ship landed in San Vito in 801; in that ship there were San Vito's and his tutors – Modesto and Crescenza – relics. From XIV to XVIII century, San Vito Abbey was a Friars Minor dwelling house.
Pino Pascali Municipal Musem of Contemporary Art Foundation
"Pino Pascali Museum" is near the sport field. It's the only public contemporary art museum in Apulia. It hosts contemporary artists' exhibition both national and international. One floor homes a "Permanent Collection" of artists' works who won "Pino Pascali National Prize".
Peppino Campanella – Light Objects
You have to visit "Peppino Campanella Atelier"; Peppino is a designer from Polignano a Mare who realizes these objects assembling rocks and sheets of glass, broken into fragments and then fixed with tin. His atelier's balcony is really attracting because of it overlooks "Lama Monachile".
Domenico Modugno Monument
People coming to Polignano can admire Domenico Modugno statue, also known as "Mr. Volare". The big bronze statue – three meters high – is dedicated to a "meraviglioso" interpreter; it has been realized by Hermann Mejer, an Argentinian artist. You can see it from B&B Poesia di Mare balconies.